Freeze Payoneer Cards
Before entering the topic of Freeze Payoneer Cards, let know what is Payoneer? is an online electronic payment company that benefits professionals and businesses when making and receiving payments worldwide. The company was founded in 2005 and operates in more than 199 countries around the world.
The story of the matter is that Payoneer as a company and an electronic bank is not a party to this problem at all, but relies on issuing cards for its customers' accounts to another company called WireCard, which is the company concerned to receive transfers to and from the customer's Payoneer card, WireCard has been suspended by the Financial Conduct Authority in the Kingdom United States (FCA) and no longer have access to client funds.
What happened is that WireCard submitted exaggerated financial reports and an increase of 1.9 billion euros on the total volume of customer accounts, which may have the purpose of raising its market value and share price, but these inaccurate reports were monitored and revised by the FCA Financial Conduct Authority, and the matter ended Freezing the work of this company (it may be a temporary suspension) until a final and definitive decision on this matter is taken.
According to the text in the letter, the details are still unclear and difficult to understand. The leading body (affected by this crisis) confirmed that the card holder can withdraw money from the card from his leading account and withdraw it in some way, which is to transfer the balance directly to a bank account instead of trying to withdraw through the dormant card now.
New update on June 30, 2020
We are pleased to inform you that the FCA has completed its audit and unfreezing of the Payoneer Prepaid Mastercard® Card. We know this period has been difficult for you. We appreciate your patience and support as we work to resolve the situation quickly.

New update on July 2, 2020
good news! We have successfully reactivated all the services you previously had on your Payoneer Prepaid Mastercard® to give you full access to all the value we offer. Again, your money will be received directly to your card, where you will be able to withdraw to your local bank account, make payments and use the card at ATMs and for purchases. While we previously reported that this will be available on Monday, July 6, we've listened to your feedback and worked hard to deliver. Your card is safe The Financial Conduct Authority (FCA) has confirmed that all cardholders' funds are fully secure and held in secure trust accounts at leading UK banks. Furthermore, to make it easier for you, we stand behind our statement that your money is 100% safe.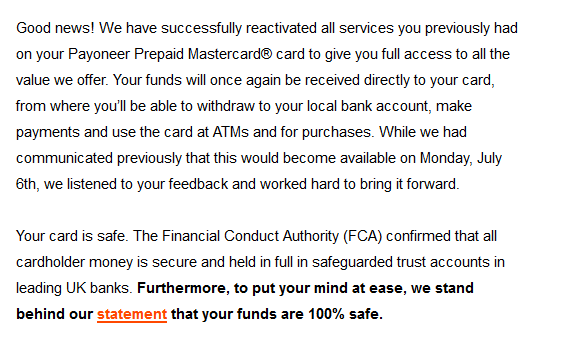 Thus, all problems related to Payoneer cards have been resolved, and customers can now use Payoneer services normally
For more inquiries please contact us